1999 French & Breton Camp Photos
---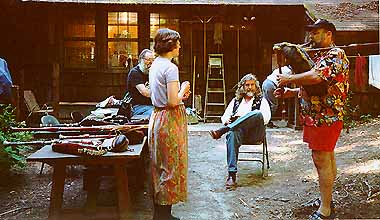 Cornemuse Workshop
Alan Keith is shown modeling the latest in summer piping fashionwear as he puffs away on his 20 inch musette. 'Keeping their cool' are attendees, from l - r: Arthur Hixson, Bettina O'Brien and Chris Caswell.

---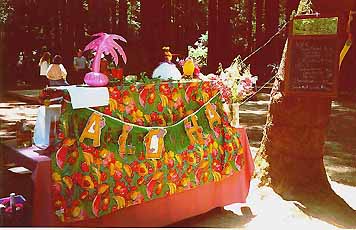 Camp Bar
This photo shows the camp's infamous French Polynesian Tropical Bar - with "Pinky" (the palm), "Lelani" (hula dancer), "Barnacle Pete" (parrot), and those *#%+$ frogs!.

---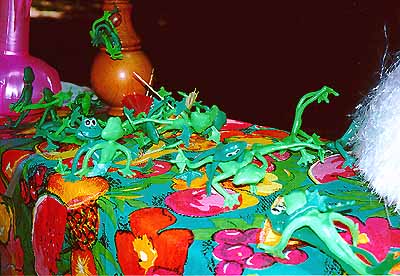 Those *#%+$ Frogs!
Some camps give out I.D. buttons for registration,.....we were supposed to hand out frogs. But our "registrar" decided that they were better suited as "art & entertainment". Parents, "best cover your kids' eyes for this shot!"

---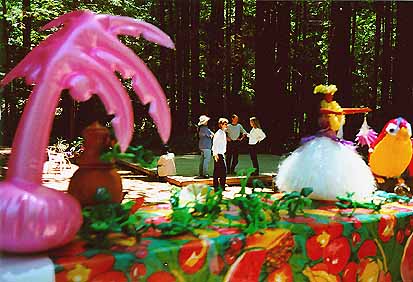 Tropical Bar & Dancers
Another view of the camp bar with "Pinkie", "Leilani", "Pete" and frogs. Breton dancers take a break in the background.

---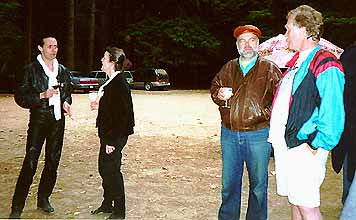 Happyhour at French Camp
'Happyhour' celebrants are shown here, l - r: Patrick Bouffard, Penny Cloud, Alan Keith and Tom Logan.

---
Benoit, Cyril & Bar
Benoit Mager and Cyril Roche (two of the members of Trio Patrick Bouffard) discuss American camp life at 'Barnacle Pete's Tropical Hideway'.

---
Mask Workshop
Our "Arts & Crafts Department" is shown here conducting a mask-making workshop for the upcoming Carnival Bal. Shown l-r are: Tom Logan, Barbara "Fun Director" Slone, Bonnie, Dorothy Hawkinson, and ?

---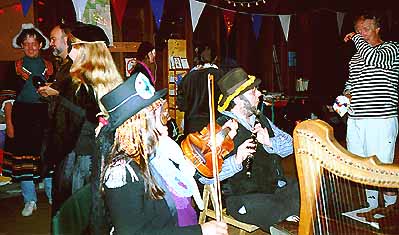 Carnival Warmup
Things are warming up on Carnival Night, as Avis (fiddle) and Mickey Zekely (flute) get the tunes a rollin'.

---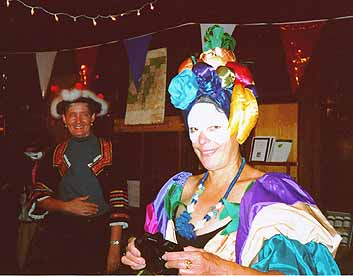 "Carmen" Slone at the Bal
Here we see that delightful tropical dish, ...er, ...fruitmound?, Barbara 'Fun Director' Slone doing what she does best... Also, looking pretty swell herself in a Breton pirate outfit is Jan Zollars?

---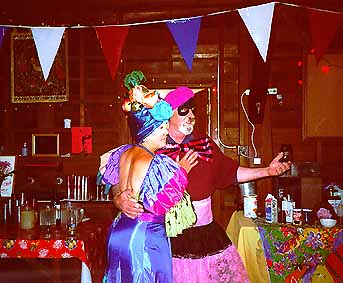 Carnival Night Bal Dancers
Barbara 'Carmen Miranda' Slone and Monsieur Arrigo D'Albert (the Hurty Gurdle Guru) 'trip the light fandango'.

---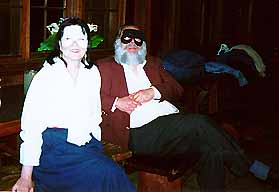 Taking Their Ease
Arthur 'Mystery Man' Hixon and the lovely Jan Johnson are seen here taking their ease from the Carnival soiree frivolities.

---
'Carnival King' Sylvestre
Here, we see King Sylvestre-the-anteater, presiding over his Carnival subjects. (You may have noticed a strange human-like suspendage beneath his protruding furry proboscus and 'bovine-boy' crown.)

---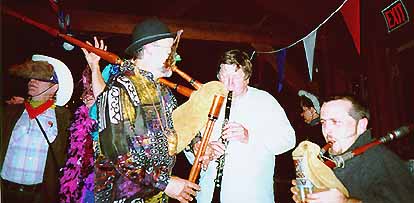 Cornemuses, Clarinet at Carnival
Things are really starting to get out of hand when Shawn Folsom on clarinet joins Alan 'Toadfeathers' Keith and Benoit on grande musettes at the Carnival soiree.

---
More photos coming! So keep checking back to see more bizarre turns and twists in the story of French Camp '99.
Photo Credits:
All photos on this page by Debra Dawson.
---

Back to the French & Breton Camp Main Page