2001 French & Breton Camp Staff Biographies
---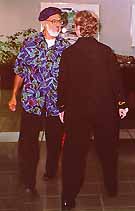 French and Breton Music and Dance Instructor - Gary Breitbard
Gary Breitbard has lived in France (Grenoble, 1969-1972), speaks fluent French, and has travelled extensively throughout the country since 1980 attending many music and dance classes, workshops and festivals. His studies there include workshops in diatonic accordion and dance at the Rencontre Internationale d'Accordion at St. Symphorien-sur-Coise (4 times), the dances of Berry, Bourbonnais, Gascogne, Alsace, Bretagne, Auvergne and Pays Basque at the Grand Bal de l'Europe (4 times), and the music and dance of Auvergne with the group Les Brayauds (2 times). With his daughter he attended a music and dance festival in Auch and spent an intensive week in Houilles studying the dances of Auvergne, Gascogne and Bearn. As well as being a fabulous dancer and dance instructor, Gary is also a quite accomplished musician on both piano and diatonic accordions, fiddle, guitar, banjo, mandolin and the piano-forte. He is currently learning to play the hurdy-gurdy and cornemuse du Centre. He presently plays in the group Les Campagnards with Alan Keith. It can be safely said that Gary has a strong desire to promote the music, dance and culture of France in the U.S.

---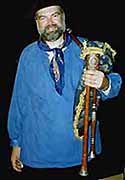 Cornamuse Instructor - Alan Keith
Alan plays various sizes of the "musettes du Centre" (mouth-blown French bagpipes), the Auvergne cabrette (bellows-blown bagpipe), and the boha (cornamuse Landes de Gascogne). He also plays the diatonic button accordeon, Breton biniou (bagpipe) and bombard, and various other wind instruments.

Alan has been playing music since grade school and professionally since high school. He has been studying French music for over twenty years here (U.S.) and in France, and has been a member of the French bands Le Soleil, Le Bonheur, Deux Amis and Turlututu. He presently plays in the groups Tour de France and Les Campagnards.

Alan is featured on Le Soleil's recordings Le Soleil, and Bal Folk en Californie, and on French Creek's Fait en Californie. He is currently recording a CD with Tour de France.

Visit Alan's website: "Mr. Reeds of Cyberspace"

---
French Fiddle Instructor - Dorothy Hawkinson
Dorothy A. Hawkinson began her relationship with the fiddle 38 years ago, and it was in Georgia in the late 70's that she was inspired by the haunting traditional music of the southern Appalachians. She has been playing, performing, writing and teaching around Sacramento since the early 1980's. She has won awards at fiddling contests, and her fiddle speaks several dialects: Celtic, Appalachian, bluegrass, Scandinavian and French. The liveliness of her clear, sweet fiddle style is well-suited to French and Breton melodies. Her current musical projects include contemporary folk, traditional French, Scandinavian and Celtic music and living history presentations of the music, story and song of the California Gold Rush. She presently plays in the group French Creek, and is featured on their recording Fait en Californie.

---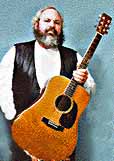 French Melody & Rythm Guitar Instructor - G.F. Cloud
G.F. has been playing guitar professionally since 1966. His styles include ragtime, blues, bluegrass, Irish and old time music. 10 years ago, G.F. started to work out ways to play guitar in traditional French music. Since there was no history of guitar in this idiom, he has been instrumental for it's introduction into the tradition. G.F. uses a combination of melody and rythm to give a much needed bass and mid-range tonal support to an otherwise treble dominant music. For this and his tasteful playing style, G.F. has been given much praise by the "giants" of French traditional music both in France and the U.S.

29 years ago G.F. founded the "Public Domain" concert series in Northern California. He took over the non-profit California Folk Arts Association, and has done a series every year since. It remains one of the 20 longest running music series in the U.S., and brings top touring artists to Northern California every year. G.F. presently plays in the group French Creek. He both produced and is featured on their recording Fait en Californie.

---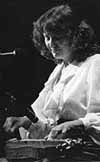 French Song and French Poetry Instructor - Holly Tannen
Holly Tannen is an amazing musician, songstress and folklorist. She holds a Master's degree in folklore, and teaches folklore and anthropology. Her albums include Rime of the Ancient Matriarch, Invocation, and Between the Worlds.

Holly will be teaching a workshop of the French language through song. She will also give two workshops on the poetry of Arthur Rimbaud (with handouts, both in the original and in translation). No knowledge of French language is required for either class.

---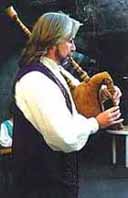 Breton Music and Dance Instructor - Ray Price
Ray Price's speciality is the teaching of the community dances of Brittany. These dances are performed in circles and spirals at the Breton 'Fest Noz' (night festival or feast). Breton dances are from the ancient Celtic traditionand are danced by everyone in a town/village. The music is traditionally played on the bombarde (rustic oboe or shawm) and the biniou (bagpipe), both which are loud! Ray also teaches couple dances of the Berry, Bourbonnais and Auvergne regions of France.

Ray teaches and performs regularly around the USA and Europe, and in 1997 embarked on his first five week tour of Australia and New Zealand. In 1998 he formed a new band Trouz Bras ("Big Noise" in Breton) to play the dance music of Brittany. He plays the Breton bagpipes (veuze and biniou), various strings, percussion and sings.

Ray is presently the Program Director at National Public Radio station KUSP-FM in Santa Cruz, California. Before accepting the position, he was the media coordinator for the 1997 Monterey World Music Festival.

Ray is featured on the recordings Down to Earth and Café du Circle by the group Terre á Terre, The Mill in colaboration with Philip Chambon, and Back to Basics, Codetta, and Where the mountains meet the sea (solo albulms).

Ray will be assisted in the dance teaching by his wife Shelly D'Amour.

Visit Ray's website: The Spiral Dance

---

Back to the French & Breton Camp Main Page