Special Guest Teachers' Biographies
Christophe Tellart, Jean-Karim Guillemet, Thierry Nouat and Basil Bremaud
---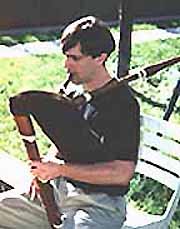 Christophe Tellart is a broadly accoplished musician in Baroque, Medieval and Traditional styles playing various sizes of musettes du Centre (bagpipes), hurdy-gurdy, Irish and South American flutes and harpsichord. He's a member of the ensemble Percival playing medieval and renaissance music. He has played with, among others, Trio Patrick Bouffard, Frédéric Paris, Jean-Claude Blanc, and Jean-Pierre Van Hees. In addition to his musical abilities, Christophe is an accomplished linguist, speaking Russian, Ukranian, Georgian, Spanish and wonderful English, as well as his native French. His versatility and enthusiasm are simply amazing!

Here are some sound samples of recordings featuring Christophe:

Sound sample -

"Vueil mon cAer" (XIIIth cent) (526k MP3)
Sound sample -

"J'ay vu le loup, le renard" (400k MP3)
Sound sample -

"Les Marronniers" (G.Chabenat) (634k MP3)
Sound sample -

"Sonnerie" (trad.) (905k MP3)


---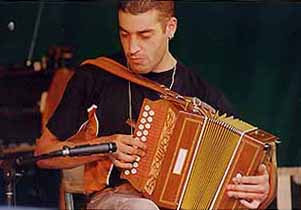 Jean-Karim Guillemet who's specialty is the diatonic accordion, has been teaching, playing, and recording for over 15 years. After having studied with Yves Becouze and others, he created the musical group Diatonic Trio with two other accordionists.
Jean-Karim is also a member of a quartet, Chiens et Soufflets (dogs and bellows) which includes two accordions and two hurdy-gurdies. Their music is steeped in that of the tradition of the Auvergne, but is evolving stylistically in new directions as well with the addition of non-tradional instruments such as bass and drums.
Jean-Karim's classes will cover:
Traditional Auvergne repertoire; bourees a 3X, polkas, etc
Diverse ornamentations
Rhythm and harmony work
Playing as a musical ensemble
---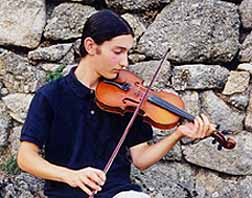 Basil Bremaud began classical violin at the age of 8. During adolescence he became impassioned with traditional music. Basil having studied with traditional players in Ireland and France, then discovered the repertoire of the Artense region of central France. Profoundly touched by this music, he decided to immerse himself in it. Basil has studied with Jean-Marc Delaunay, collected much recorded source material, and apprenticed with the Artense fiddlers remaining alive, most notably with the great Joseph Perrier. Since 2000, Basil has served as an instructor at the noted Fête des Brayauds, has pursued his research into traditional sources, and plays with various musical groups under the umbrella of Association Les Brayauds.
Depending on the needs of the participants, Basil's classes will cover the repertoire of the Artense and Correze regions of France, as well as techniques and styles found in these musiques.


---
Thierry Nouat has been playing hurdy-gurdy for 17 years, including 10 in music conservatory where he was awarded a medaille d'or in traditonal music at the National Music Academy of Bourges. He has studied with Gilles Chabenat, Valentin Clastrier, and Patrick Bouffard, and participated in the creation of four CD's by the innovative group Viellistic Orchestra. Other musical affiliations include i Muvrini, the duo Machiavelle with Stephan Durand which produced a wonderful live CD, and more recently Tarif de Nuit which released the CD Bistro Swing'.
Thierry has a devoted following of American hurdy-gurdy players who trek to France just to crank with him; we are thrilled to have the chance to learn from Thierry this close to home.
---

Back to the French & Breton Camp Main Page