French & Breton Music and Dance Celebration
(check back for details on next camp - to be scheduled for June, 2003)
2001 Schedule - Seven full days, June 24 - July 1, 2001
Mendocino, California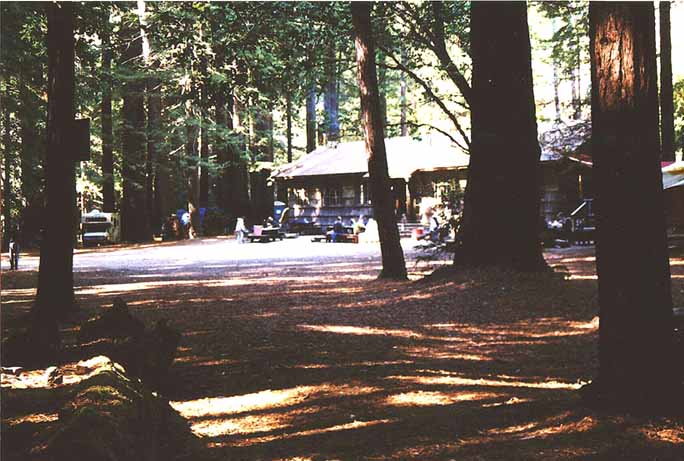 View of Camp 2 Recreation/Dining Hall

Music and Dance from All of France
- Special Guests - Direct from France
Christophe Tellart, Thierry Nouat, Jean-Karim Guillemet and Basil Bremaud
Special Guest/Participant Cliff Stapleton of Blowzabella from England

Now in it's second year, the French & Breton Music and Dance Camp is designed to provide a total immersion experience of French culture wih an emphasis on music and dance. Our special guest artists Christophe Tellart, Thierry Nouat, Jean-Karim Guillemet and Basil Bremaud, in addition to our volunteer workshop leaders, will conduct music and dance workshops throughout the week.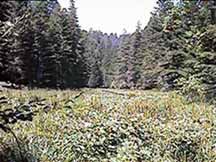 Location: The Mendocino Woodlands Family Camp, a National Historic Landmark Camp, is located in a 720 acre redwood forest nine miles inland from the pictoresque village of Mendocino on the spectacular California coast, about a four hour drive north of San Francisco. Camp Two (there are three Mendocino Woodlands Camps) is wonderfully situated in a level area with lots of sun, shade, and a beautiful creek running through it. There are lots of hiking trails, swimming (at Big River) and a nature center nearby.
A Celebration Of French & Breton Music, Dance, and *CUISINE*. Imagine idyllic days and nights in a magical redwood forest filled with all the music, dance, great food and good times you could possibly stand. That's pretty close to what the French and Breton Music and Dance Celebration is like. Plenty of good French country food, new friends, and musical and dancing stimulation. Truly a unique total immersion into the joys of nature and French culture. Note: This year we will have the camp all to ourselves, so there will lots more cabin and dining space.
Activities: Mornings are organized around beginning music and dance classes, with afternoons devoted to intermediate/advanced workshops. You are free to take as many or as few of the workshops offered during the day as you like. Alternative daytime activities can include special singing, poetry, or crafts workshops (last time we had a mask-making workshop for our 'Carnival Night'), sightseeing, hiking, swimming or just relaxing. Jam sessions can occur anytime, and every evening there's a big dance party in the Dining/Dance Hall. (Note: We highly encourage campers to bring French and Breton folk costumes to wear at the various theme dance parties.) Children are always welcome, but there are no specific activities sceduled for them. Please call or write the Director for more informatioon and the fee schedule.
Theme Nights: This Year's Possible Dance Party Theme Nights:
-Les Auvergnats á Paris - A bal musette. (Musicians - bring your keys of C & G instruments for an Auvergne music jam.)
-Centre France Soirée - Berry, Bourbonnais, Morvan, ... (Musicians - instruments in keys of D & G)
-Carnival Occitan / Mardi Gras - A masked costume ball! - with valses, javas and tangos (this was a huge success last time). Bring costumes!
-Nuit d'Alasace/Lorraine/Alps (new) - learn to waltz in 5X! Rigadon the night away!
-Fest Noz en Bretagne - Breton boogie with Ray Price all night long!
*Plus* a special evening party with the Folklore Camp folks over at Camp 1
Please bring costumes and props that will relate to theme nights,...let's make this a memorable event!
-Saturday: On the last Saturday night of camp, there will be a special dinner, dance, and concert (given by our guest instructors) at the camp. (Free admission to Campers. General public welcome...call or write the Camp Director for details).
-Every evening: French Polynesian Happy Hour ...parasol tropical drinks :-) Celebrate summer!...get those island duds out of mothballs! Special surprises!
Auction: There will be a "Silent Auction" of items to benefit the Camp (the expenses are overwhelming!). Any item, service, or talent you may have to contribute to the auction will be graciously accepted.
Workshops: Both music and dance workshops will be geared toward the intermediate/professional as well as the beginner. Beginners are invited to silently audit the advanced classes given by our special guest instructors. Some knowledge of spoken French is helpful, but not a necessity, ...all classes are conducted in English. Note: Be sure and list your instrument and dance workshop preferences on the Reservation Form. Instrument classes and instrumentation will be primarily taught in the major keys of G/C and D/G.
Accomodations: Campers stay in delightful rustic cabins nestled in the majestic redwoods. Some cabins have 4 beds, others 2. Each one has roomy closets, but no electricity. A central bathroom/shower facilitie with electricity and hot water is located near the dining/rec-hall. Toilets and cold-water lavatories are located near each group of cabins (no electricity - bring flashlights!). If you do not have enough folks in your party to fill a cabin, we will assign you cabin-mates. If you want friends to room with you, let us know who they are. You may also pay for an empty bed in your cabin if you want privacy (subject to the availablity of smaller cabins).
You may also either tent camp or bring a camping vehicle. No hook-ups. Camping vehicles will be restricted to the parking area near the Dining/Dance Hall.
The Dining/Dance Hall is a spacious open-ceiling timbered structure with wooden flooring and a large stone fireplace. Outside nearby are picnic tables. (See Photos from French and Breton Camp, June 1999.)
Food: Debra Dawson is our chef du cuisine. Those of us who partook of Debbie's wonderful country French cooking last time, will remember it as being quite the gourmet experience. This year's is promised to be even better! (Continental) Breakfast, lunch, dinner, snacks and non-alcoholic beverages will be provided, and are included in the cost of the camp. Wine and beer will be available additionally. "To dine on Debbie's cooking, is to be able to undo one's top pant's button and not be sorry". - G.F. Cloud, musician & gourmand extrordinaire.
Chores: Because of the small (primarily kitchen) staff, volunteer assitance will be needed for dining set-up and certain camp cleanup chores. Campers will sign-up at time of registration.
Work Scholarships: A very limited number of partial kitchen scholarships are available for this Camp. Scholarship persons are expected to assist the kitchen staff in serving meals and in cleaning up the dining area and kitchen. The daily schedule is organized so as to allow plenty of time for participation in music and/or dance classes and the evening parties. Interested persons should write a letter or send an email to the Camp Director stating their reasons for requesting a scholarship and indicating their folk dancing, musical instrument and/or kitchen experience (none is required). Scholarships will be assigned as qualified candidates letters are received. The deadline for receipt of letters is May 1, 2001.
---
French & Breton Music and Dance Celebration 2001

June 24 - July 1

- Special Guests Christophe Tellart, Thierry Nouat, Jean-Karim Guillemet, Basil Bremaud and Cliff Stapleton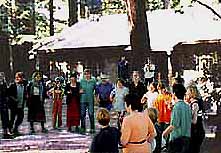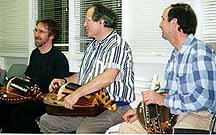 Music & Dance Workshops

Dances * Parties * Sessions

Dining/Dance Hall * Cabins

Camping * Hiking * Redwoods

Fabulous Food! (included)

* * *

Special Saturday Evening Concert/Dinner/Dance - general public welcome (contact Camp Director for details)

* * *

Full Camp 7 Days


Half Camp 4 Days

Special Children's Rates

Special Last Weekend Offer (see Registration Form)

* * *

(only 60 cabin spaces!)
---
French and Breton Camp's 2001 Teaching Staff
Special Guest Teachers - Direct From France:

Christophe Tellart ('Percival') - Baroque Hurdy-Gurdy and Centre France Cornemuse Workshops
Thierry Nouat ('Viellistic Orchestra', 'Muvrini', 'Machiavelle', 'Tarif de Nuit') - Hurdy-Gurdy of Central France Workshop
Jean-Karim Guillemet ('Chiens et Soufflets', 'Diatonic Trio') - Diatonic Accordéon Technique and Repertoire Workshop
Basil Bremaud ('Les Brayauds') - Fiddle Technique and Tunes of the Artense and Auvergne Workshop

Click here for Guest Teachers' Photos & Biographies. Now with sound samples (MP3).


Our 2001 volunteer workshop leaders:

Cliff Stapleton ('Blowzabella') - Hurdy-gurdy Maintenance Workshop
Gary Breitbard - French and Breton Dance Workshops
Alan Keith ('Tour de France', 'Le Soliel') - Cornemuses (bagpipes) Maintenance Workshop
G.F. Cloud ('French Creek') - Melody and Backup Guitar for French Music Workshop
Dorothy Hawkinson ('French Creek') - French Fiddle Tunes Workshop
Holly Tannen - French Language Through Song and French Poetry Workshops
Ray Price ('Terre á Terre', 'Trouz Bras') - Breton Music & Dance Workshops
Shelly D'Amour - Breton Dance Workshop

Click Here For Volunteer Staff Photos & Biographies
---
---
For More Information, contact:
Debra Dawson, Camp Director

P.O. Box 975, Mendocino, CA 95460, U.S.A.

telephone/fax: (707) 964-0509

email: Goodthym@mcn.org
or:
---
Photo Credits:
Woodlands Camp 2 - photo by Olaf Palm (R.I.P.)
Woodlands Meadow - photo by Brian Howard
Fest-deiz Dancers - photomontage by Alan Keith
Gurdies 3 - photo by Ray Price


Website Wizard
alan@keithmusic.com